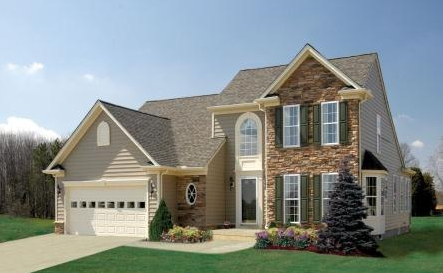 If you plan to buy a house this winter, we have good news for you. Buyers will face less competition and will likely find a greater number of homes available for sale.
Now the bad news: Mortgage rates will keep climbing in 2014. They won't necessarily spike overnight, but you may run out of time to grab the best mortgage rate if you wait too long. The size of your loan also may have to be adjusted after new rules and new loan limits go into effect this year.
Not sure this is the right time for you to buy a home? Maybe renting is a better option for you, but depending on where you live, expect rents to climb, as well.
Here are five housing trends you can expect to see this winter.
Mortgages Get More Expensive

It's time to kiss extra-low mortgage rates goodbye.
Several factors will put upward pressure on rates in the next few months, including the Federal Reserve's recent decision to scale back on its bond-purchasing stimulus program.
Higher mortgage fees on Fannie Mae and Freddie Mac loans also will make mortgages more expensive in 2014, as they will result in higher rates for borrowers, says Brian Koss, executive vice president for Mortgage Network in Danvers, Mass.
The fee hike could affect many borrowers because Fannie and Freddie own or guarantee about two-thirds of new mortgage loans.
With the higher fees, even borrowers with credit scores above 740 would pay more for mortgages, regardless of the size of their down payments. In addition, Fannie and Freddie have plans to raise the fees they charge lenders, which will translate into higher mortgage rates for consumers.
Mel Watt, the incoming director for the Federal Housing Finance Agency, which oversees Fannie and Freddie, says he will delay the implementation of higher fees, but has not offered details on when they could go into effect.
"It doesn't make sense to add additional barriers now that the market is healing," says Lawrence Yun, chief economist at the National Association of Realtors. Still, he says buyers should act quickly if they are ready to make a commitment now.
Buyers Face Less Competition
The housing market will march at a slower pace this winter. That's good news for potential buyers who struggled to ink a deal during the fall.
Home sales have taken a dip after more than two years of year-over-year increases. A housing report by Re/Max found that home sales dropped 15.9 percent in November, compared with the previous month, and 7.8 percent compared with a year ago. The report is based on Multiple Listing Service data in 52 metro areas.
Home prices won't follow the same trend as home sales, Yun says.
"But there will be less of a bidding frenzy than before," he says. And don't dare call this a buyer's market yet. "It's slightly tilted towards favoring the seller over the buyer."
Still, buying a home should be a bit easier this year as the inventory of homes for sale increases.
"We are going to see more inventory coming online," says Errol Samuelson, president of Realtor.com. "Homebuilders are calling for 1.1 (million) to 1.2 million housing starts next year, which is much better than a couple of years ago. And as home prices appreciate, people who were underwater will feel more comfortable putting their homes on the market."
Loans Shrink
The Federal Housing Administration has reduced the maximum loan amount on FHA loans in 650 counties across the country. The new limits went into effect Jan. 1.
In high-cost areas the loan limit was reduced from $729,750 to $625,500. You may think that's not such a big deal, but it affects the purchasing power of many buyers with low down payments in cities like New York and San Francisco.
The FHA also drastically reduced the loan limits in some counties. Limits in Salt Lake County, Utah, for example, dropped from $729,750 to $300,150.
Fannie Mae and Freddie Mac also are considering reducing their loan limits from $417,000 to $400,000 in most markets, but have not made a final decision.
These reductions could hurt the housing market as buyers who want to buy outside the loan limits would face stricter underwriting requirements, says Matt Hackett, operations manager for Equity Now, a mortgage bank in New York City.
"In general, the reduction in explicit and implicit government-backed loan amounts pushes buyers on the margin into 'non-agency' loans, which tend to have more stringent qualification standards, reducing the overall pool of buyers which can qualify for a loan," he says.
New Mortgage Rules

A series of new mortgage rules goes into effect in January. Most of the rules were created to protect consumers from lender abuses and to shield the mortgage market from the irresponsible lending standards seen during the last housing boom.
You may have heard that the new rules will make it harder for consumers to qualify for mortgages, will hinder mortgage lending and hurt the housing market. But in reality, most borrowers won't be affected by the new rules when applying for a mortgage.
One controversial part of the new Qualified Mortgage rule, or QM, says a loan to a borrower with debt-to-income ratio of more than 43 percent will lack certain legal protections for lenders. Debt-to-income ratio is the percentage of monthly income that goes toward debt obligations.
Loans will be exempt from the 43 percent DTI cap for seven years, as long as the loans meet FHA, Fannie or Freddie Mac guidelines.
"Generally speaking, (the underwriting requirements) will stay about the same for most people," says Michael Becker, a mortgage banker for WCS Funding in Baltimore.
Another part of the rule, which puts a cap on maximum points and fees that borrowers can be charged, could hurt borrowers seeking smaller loans, he adds.
Rents Get Less Affordable

As homeownership gets more expensive in 2014, many Americans may choose to rent instead of buy. That could put more pressure on already unaffordable rents.
Although rent growth has somewhat stabilized after a steady rise in 2011, rents are still increasing at a faster pace than overall inflation, according to a recent study by the Joint Center for Housing Studies of Harvard University. One in four renting households spend more than half of their income on rent and about half spend more than 30 percent of their income, according to the study.
Demand for rentals continues to grow, especially for single-family homes, says Wally Charnoff, founder and chief executive officer of RentRange LLC, a rental market data company.
"We are seeing a shift where people seem more comfortable renting single-family homes in suburban neighborhoods instead of apartments," he says.
Rents aren't increasing everywhere in the nation, he says. But they are more likely to rise in areas with strong job growth, shows the Harvard study.