Friday
• Jennifer's 10th Annual Art of a Woman Exhibit A variety of works will be showcased, including abstract and realistic painting, contemporary raku clay creations, painted furniture and whimsical sculptures. All will be available for purchase. 10 a.m.-6 p.m. April 14-26 at Jennifer's Fort Myers boutique, 13451 McGregor Blvd., Fort Myers, 481-8582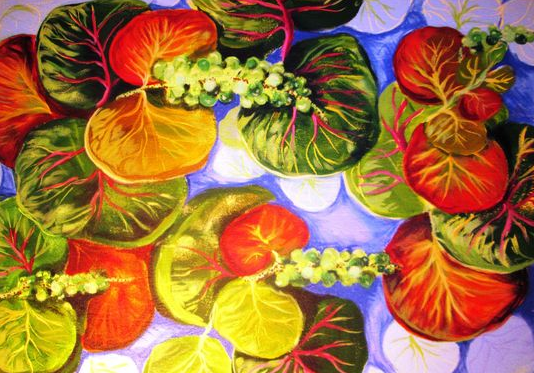 Duo Romantico The singing couple performs opera, "popera," musical-theater music and more at their last concert before going on tour. 7 p.m. $25. Italian-American Club of Cape Coral, 4725 Vincennes Blvd., Cape Coral. 332-1853
• Rock the Dock This two-day event featuresfood and live entertainment by Deb and The Dynamics from 6-9 p.m. on Friday, followed Saturday by The Rachel Hughes Duo from 10:30 a.m.-1 p.m., the Cracker Blues Band from 2-5 p.m. and The Landsharks from 6-9 p.m. Marina at Edison Ford, 2360 W. First St., Fort Myers, 245-7320. marinaedisonford.com
Saturday
• Balloons Over Paradise The two-day event features 60 hot-air balloons and performances by Sister Hazel, Rachel/Hughes Band and JJ McCoy. There will be delicious food, arts and crafts, tethered balloon rides, classic car show, dog agility performances, a polo exhibition and an equestrian drill team performance. 6 a.m.-noon. Seminole Tribe Youth Ranch Immokalee, 1195 State Road 29, Immokalee. 800-218-0007. seminoleimmokaleecasino.com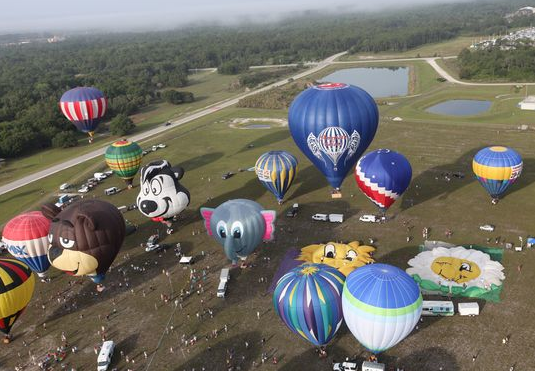 • Fort Rock at JetBlue Park One of the biggest metal festivals to ever hit Southwest Florida. With 15 bands on two stages, the lineup includes Rob Zombie, Five Finger Death Punch, Korn, Trivium, The Pretty Reckless, Lacuna Coil, Seether, Sick Puppies, Twelve Foot Ninja andBlack Stone Cherry. 11 a.m. to 11 p.m. Saturday. JetBlue Park, 11581 Daniels Parkway, Fort Myers. $54.50-$109.50 (excluding taxes and fees, prices subject to change). Parking: $15. Info: Fortrockfestival.com
• Drive the Lane Celebrity Basketball Game This event is presented by MADD SWFL and Lee County Coalition for a Drug Free Southwest Florida. Hometown champions Earnest Graham and Jevon Kearse, as well as Jeff Dellenbach, Daunte Culpepper and Antonio Freeman, all former NFL players, will participate on the court. Our local heroes, law enforcement officers, firefighters, high school principals, coaches and student athletes will be their teammates. 1-4:30 p.m. $5 adults, $2 students. Bishop Verot High School 5598 Sunrise Drive, Fort Myers. 791-7560. madd.org/drivethelane
• Fight for Air Stairclimb The Stairclimb raises money for the American Lung Association by collecting pledges to ascend the stairway of High Point Place, the tallest building between Tampa and Miami. Teams can practice on Saturday mornings once they've registered. $25 registration fee; each climber must raise $100. High Point Place, 2104 W. First St., downtown Fort Myers, 908-2685. fightforairclimb.org
Sunday
• Sunday Blues Benefit Great food and music will be served up at The Heights Foundation's Sunday Blues from 2-6 p.m. Musicians Randy Thomas, Danny Shepard and Doug Molloy will entertain guests and Jake Elwood and friends will make a special appearance. The buffet features The Blue Coyote's creative and original menu items. $50 per person; sales of wine and the Bacon & Egg Bloody Mary will be donated to The Heights Foundation. Blue Coyote Supper Club, 1100 Par View Drive, Sanibel Island. 472-9222. heightsfoundation.org
• Florida Gulf Coast University Chamber Choir in Concert Admission is free for this concert, however there will be a free-will offering during the performance. 4 p.m. North Naples United Methodist Church, 6000 Goodlette Road N., Naples, 593-7600.
• Taste of North Fort Myers Sample local food and drinks while enjoying entertainment, a car show, free kids games and activities, free petting zoo, raffles and more. 11 a.m.-4 p.m. $3 per person, free for ages 5 and younger. Shell Factory and Nature Park, 2787 N. Tamiami Trail, North Fort Myers. 997-9111. tasteofnorthfortmyers.com
Monday
• Black & White Party, an Evening of Beauty & Fashion This event celebrates the new Redken Premiere School of Cosmetology. Features hair by Redken 5th Ave stylists, a catwalk fashion show provided by White House Black Market and Fantasy Makeup by Cara and the FL Academy. RSVP to floridaacademy.eventbrite.com. 6-8 p.m. Florida Academy of Massage and Skin Care, 4387 Colonial Blvd., Fort Myers, 489-2282.
Wednesday
• Boz Scaggs The singer-songwriter is on tour in support of his new release "Memphis," showcasing both original songs and choice covers. 7:30-9:30 p.m. $49.82-$81.62. Barbara B. Mann Performing Arts Hall, 8099 College Parkway, Fort Myers, 481-4849 or bbmannpah.com
Thursday
• Prism Concert The Fort Myers High School music department will be divided into its varied components. You will hear and see the full instrumental, choral, dance groups, and a variety of soloists and small ensembles. 7 p.m May 1-2. $8. Fort Myers High School, 2635 Cortez Blvd, Fort Myers, 334-2167. fmhsgreenwave.net
• ArtsNaples World Festival Venetian Masquerade This event kicks off the weeklong arts festival in Naples. An Italian Carnevale atmosphere combines with a gourmet multicourse dinner and unique musical surprises. Guests' attire to be Black Tie & Mask, or Masquerade Costumes. 7-10 p.m. Individual tickets $350 or $2,400 table for 8. The Club at Olde Cypress, 7165 Treeline Drive, Naples. 888-613-8488. ArtsNaples.org
May 2
• Digital Lee Showcase 2014 A design and technology showcase of the most exceptional student projects from the Lee County Public School District. This year's exhibit will debut on May 2 at 6 p.m. The competition is open to Lee County's middle school, high school and post-secondary programs in graphic design, animation, publication design and Web design. Artwork will be displayed until May 22. Sidney & Berne Davis Art Center, 2301 First St., downtown Fort Myers, 939-6326. digital-lee.com
• Art Walk The free, monthly art event takes place from 6-10 p.m. the first Friday of every month. Art galleries and other businesses stay open late for art shows, live music, an after party and more. Downtown Fort Myers. fortmyersartwalk.com
May 3
• 13th Annual Free Comic Book Day A single day when participating comic book shops across North America give away free, specially produced comic books. Comics Cards and Stuff will promote the event with a large sale raffle and special giveaways, along with appearances by several "superheroes" and Star Wars Stormtroopers. 10 a.m.-5 p.m. Comics Cards & Stuff, 3563 Fowler St., Fort Myers. 939-0878. facebook.com/fortmyerscomics
May 4
• 19th Annual Taste of the Beach featuring Baywalk Blues Festival Restaurants along Old San Carlos Boulevard, on Fort Myers Beach, will offer samples of their signature dishes and compete for top Taste of the Beach Award honors. Gates open at 11 a.m. Food will be served until it runs out or at 5 p.m. Tickets will be available on site. Admission is $5 for adults and children over 12. Food tickets are $1 each with a $5 average food serving price. 454-7500. tasteoffortmyersbeach.com
• Third Annual International Food Festival Sample international cuisine from eight Mercato restaurants and enjoy live music. Most menu items will be priced less than $6. Kids' Zone available featuring bounce house, arts and crafts and many other fun activities. Location: lawn next to MASA. Noon-4 p.m. Mercato Shops, 9115 Strada Place, Naples, 254-1080. mercatoshops.com/event/3rd-annual-international-food-festival/2145431190
• Fleamasters' Best-Dressed Chihuahua Contest event begins at 1:30 p.m. with registration beginning at 11 a.m. Enjoy a special performance by the Calendar Girls Dance Team at noon. Registration is $10 per dog. Fleamasters Fleamarket, 4135 Dr Martin Luther King Jr, Fort Myers, 334-7001. fleamall.com
• The Heights Foundation and Lee Reefs Present LionFish Fest – Feast on the Beast On Sunday, May 4 from 2-5 p.m. Join celebrated local chefs from Crave Culinaire, Three Fishermen, Red's Seafood, Cru and The Timbers, as they present a unique twist on Florida fare. Guests will vote for their favorite dish. The event will include door prizes, fun auction items, a signature tropical drink and live music, as well as displays about Lionfish and our reefs. Mitch and Billy of ScubaNation television will be on hand showing their underwater videos. Katie Walls of WINK News will emcee the event. Admission is $50 per person, children under 12 are admitted free. Harlem Heights Cultural Arts and Community Center, 15570 Hagie Drive, Fort Myers, 482-7706. heightsfoundation.org